WSACCO TOP MANAGEMENT STAFF AQUIRE MORE COMMUNICATION SKILLS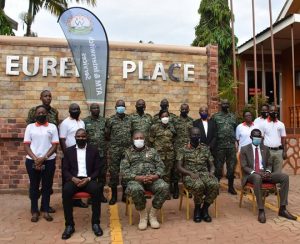 Wazalendo Savings and Credit Cooperative Society Ltd (WSACCO) top management staff completed a one – day (13th November 2021) training in modern communication skills.
The training, by Houston Consulting Executives, for the twenty seven (27) staff at Eureka Hotel in Kampala aimed at strengthening communication skills between members of the SACCO and its stakeholders.
The UPDF Chief Political Commissar Maj Gen Henry Matsiko, who officiated at the closing ceremony emphasized the importance of practicing the newly acquired skills and knowledge for better service delivery.
He reminded them to maintain ideological clarity in all operations of WSACCO, adding that the SACCO has already built a good brand which should be maintained for the continuity of peace and stability.
" As senior managers of the SACCO, beware that you hold UPDF in your hands. Issues concerning the welfare of the forces can destabilize the security of the country once not handled with integrity and transparency. I implore you to never entertain destabilization of the SACCO project," he warned.
The Chief Executive Officer of WSACCO Col Joseph Freddy Onata lauded trainers for imparting the rich communication package onto the staff. He asked staff of WSACCO to share it widely as they engage with stakeholders.
Mr. Opio Douglas on behalf of Houston Consulting Executives appreciated WSACCO for awarding them the training opportunity. He expressed gratitude for serving the forces in another capacity.
Participants at the training included Director Finance and Administration Lt Col Yusuf Buha Magero, Director Operations Mr. Atalyeba, Heads of Departments and Senior Managers.