WAZALENDO SACCO EXTENDS SUPPORT TO ONE OF ITS MEMBERS ATTACKED BY ARSONISTS
Today 04th November 21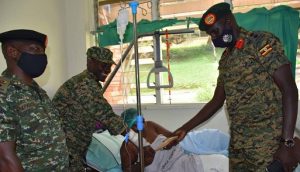 Wazalendo Savings and Credit Co-operative Society under it's corporate social responsibility (CSR) has extended support to one of its members; Maj Emmanuel Mutezi a Uganda Peoples' Defence Forces Senior Officer whose house was torched by unknown arsonist on the morning of 23rd October 21 at Kazinga Nansana Municipality..
The officer and the other members of his family sustained serious burns that led to the death of one infant.
The Chief Executive Officer Wazalendo SACCO Col Joseph Freddy Onata on behalf of the SACCO Board of Directors (BOD) and management delivered 50 bags of cement to support the reconstruction of the burnt house and a cash condolence of 1.5 million shillings. The CEO also visited the wife of the senior officer who is still nursing burns at Lubaga hospital in kampala.
According to Col Onata, Wazalendo SACCO shall also furnish the house to replace items destroyed by fire once the renovations are complete.
Col Onata while condemning the actions of the arsonist encouraged Major Mutezi and his family to keep strong as the security forces investigate the matter in order to bring the perpetrators to book.
" As Wazalendo SACCO we stand together with you during this trying moment. Our coming here is in line with our objective of dealing with the welfare of our members and in fulfilment of one the key principles of cooperatives; concern for community. "You are also part of the wider community within which we operate" Col Onata said.
He further appreciated the good gesture demonstrated by the community who rescued the senior officer and his family which action Col Onata attributes to Maj Mutezi being a good member of the community.
Maj Mutezi in his remarks appreciated Wazalendo SACCO for standing with him during this trying moment. He noted that WSACCO has not only supported the members in terms of welfare but also grieves with them during such moments.
The chairman Local council (LC) 1 of Nsumbi Kazinga village, Mr Muwawu Robert applauded Wazalendo SACCO for being there for its member.
" The UPDF are our people and we live together in harmony. There is no reason why we could have failed to rescue our colleague. He is a good officer and we thank UPDF for raising such a good officer".
In attendance also were; the Assistant Political Commissariat WSACCO, Lt col Akasius Mpabaisi, officers of UPDF and members of the community.