ENTEBBE SPOUSES OF SOLDIERS SACCO (ESOSS) RECEIVES EQUIPMENT BOOST
Today 30th August 2023
Entebbe Spouses of Soldiers SACCO( ESOSS) members have been called upon to take advantage of the SACCO projects to generate income and support the welfare of their families .
The call was made by the Deputy Director of Personnel and Administration of Uganda Peoples' Defence Forces Airforce Col Ketty Akello while receiving Sewing Machines donated by Wazalendo SACCO to Spouses SACCO. The function was held at Airforce Headquarter in Entebbe.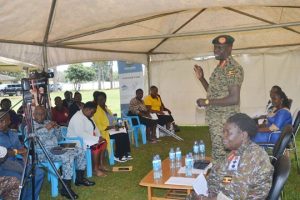 Col Akello applauded Wazalendo SACCO for the 05 Sewing Machines donated to ESOSS to boost their tailoring project. She asked members to benchmark other tailoring projects with a view of making business out of the equipment donated.
Akello asked ESOSS members to emulate the working methods of Wazalendo SACCO which started small and has now grown to greater heights.
The Chief Executive Officer of Wazalendo SACCO Col Joseph Freddy Onata who delivered the items on behalf of the Board of Directors and Management noted that the donation in intended to beef up the production capacity of ESOSS tailoring project and also enable the members to generate side income for their families.
"In May this year 2023, I was invited at ESOSS Annually General Meeting as guest of honour. One of the challenges that the Chairperson Mrs Doreen Katushabe Birungi highlighted in her report was lack of funds to acquire sewing machines to expand the tailoring project.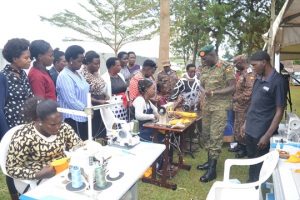 Encouraged by transparency and proper accounting that was demonstrated in the reports, I made a donation on of 5 sewing machines on behalf of WSACCO. These are the machines that we have delivered today" said Col Onata.
The CEO noted that the WSACCO and ESOSS are focusing on the same goal of improving members' welfare that will ultimately guarantee stability in the families. "When the family is stable a soldier performs better at work" . He said.
Col Onata called upon the Ladies to make good use of the machines in order to add value to the SACCO.He also said that WSACCO has supported many other SACCOS across the country with free training, donations in order create sustainable SACCOS in the country as a strategy to fight poverty.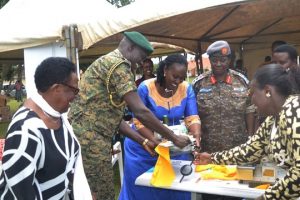 The Chairperson of ESOSS Mrs Doreen Birungi congratulated the members upon achieving their dream through the partnership with WSACCO. She thanked the CEO on behalf of Wazalendo for the generosity and pledged proper utilization of the equipment received.
Mrs Birungi also appreciated the Airforce leadership for the support towards the ESOSS which has enabled the SACCO grow without any disruptions.
"We thank Wazalendo for making our dream come true because we dreamt of having enough machines and to have a tailoring centre in future. Wazalendo has eased our journey" said the chairperson BOD.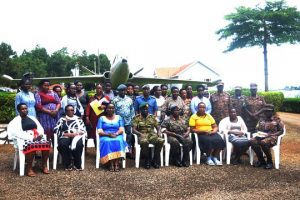 The function was witnessed by Air force officers, ESOSS leadership and members .
Compiled by
Charity Namanya
PR Manager WSACCO.