CDF COMMENDS WAZALENDO SACCO FOR IMPROVING MEMBERS WELFARE
Today 15 November 2021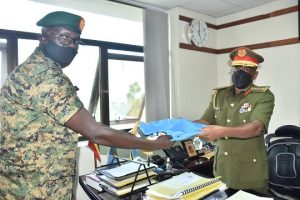 The Chief of Defence Forces (CDF) Gen Wilson Mbasu Mbadi has today commended the good work done by Wazalendo Savings and Credit Cooperative Society Ltd (WSACCO) in improving the welfare of its members.
Gen Mbadi made the remarks while meeting the Chief Executive Officer of WSACCO Col Joseph Freddy Onata during presentation of Wazalendo SACCO flag to the CDF as the patron of the SACCO. The function took place at the Ministry of Defence and Veteran Affairs headquarters in Mbuya.
He thanked Col Onata together with his staff for steering Wazalendo Sacco to greater heights.
" Thank you for steering WSACCO to the level where it has managed to remain profitable and sustainable and I urge you to be more creative and innovate in order and broaden WSACCO's products and services , " Gen Mbadi added.
The CDF pledged to continue supporting Wazalendo SACCO towards attainment of it's goal of improving the welfare of its members.
The Chief Executive Officer of WSACCO Col Joseph Freddy Onata thanked the UPDF fraternity for supporting and guiding the growth of WSACCO.
Col Onata assured the CDF that WSACCO management remains committed to the strategic objective of improving soldiers' welfare.
He added that WSACCO built an admirable brand as the most organized SACCO in the country through; transparency, accountability, ethical practices, better records management and continued improvement of engagement with members.
Gen Mbadi was also briefed about the achievements, challenges and the future plan of WAZALENDO SACCO.
The meeting was attended by among others the General Manager of Uganda Air Cargo Corporation (UACC) Lt Gen James Nakibus Lakara, Military Assistant to CCF in charge of planning and strategy Brig Gen Gonyi and a representative of the the Secretary to the Board of Directors Capt Abel Mwesigye the legal officer WSACCO.